Coming June 5, 2018
The Animal Lover's Guide to Changing the World (St. Martin's Press)
Now available for pre-order:
* IndieBound * Barnes & Noble * Amazon
The numbers are daunting. With 7.4 billion people on the planet — a number that's doubled over the past 50 years as wildlife populations have plummeted by half, wildlife is going extinct at the fastest rate since the dinosaurs. Three to four million dogs and cats are killed in shelters every year; billions of chickens, pigs, and cows are killed for food; and countless animals are killed in research labs or their habitat. So what can we do?
THE ANIMAL LOVERS' GUIDE TO CHANGING THE WORLD will show readers how to take action — online and in real life — to create a better world for us and the animals we love. It starts with changes as simple as taking a shorter shower, skipping meat once a week, wearing "this" not "that," and extends to political action.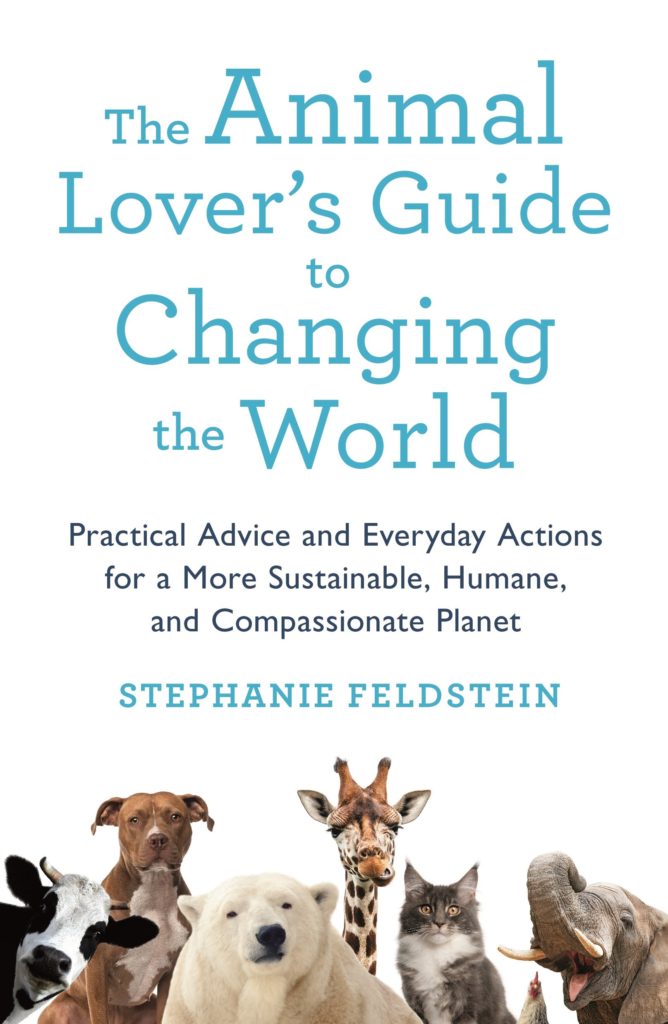 "In the compelling style of a really good writer, and covering every aspect of animal exploitation and alternatives, this book tells us what's wrong, what we can do about it today, and who'll benefit from each action. After reading this, I feel uplifted, empowered, and motivated -- grateful even, knowing how much we can do."
― Victoria Moran, author, Main Street Vegan, and host, Main Street Vegan Podcast
"Here are 259 pages of great news: we animal lovers have SO much power! There's SO much we can do! Whatever your passion, whatever your budget, whatever your schedule, you'll literally find thousands of new ways to make a difference for animals, or make what you're already doing more effective. This book belongs on every animal lover's shelf--and it's a particularly great gift for young people who are on fire to save animals but are unsure where to start. Hooray!!"
―Sy Montgomery, author of The Good Good Pig and The Soul of an Octopus
"Nonhuman animals need all the help they can get, and Stephanie Feldstein's new book is just what is needed to give them the most compassionate and humane lives possible in the wide range of venues in which other animals and humans meet. Clearly written and appropriate for a global audience of all ages, I hope this practical guide with simple and easy-to-do action alerts winds up on the bookshelf of everyone who wants to help other animals live in peace and safety."
―Marc Bekoff, Ph.D., author of The Animals' Agenda and Canine Confidential?
"Feldstein's important new book provides practical ways for readers to improve the world around them. This is an important new contribution to our literature on activist strategies." 
―Eliot Shrefer, New York Times bestselling author and two-time National Book Award finalist
"Too many animal advocates have a lot of passion, but they're not sure how to actually make a difference. Stephanie Feldstein both wants to build a kinder world and knows how to make it happen. In fact, she's been doing it for years."
―Paul Shapiro, Vice President of Policy Engagement, The Humane Society of the United States